What is a Wireless KVM Switch?
A new and innovative KVM Switch design released to consumers features wireless technology integrated with KVM Switches. Wireless KVM technology essentially removes the considerable amounts of cables necessary for KVM deployments.
Non-wireless KVM solutions normally involve 2 separate cable feeds: cables from the KVM switch to the host computers and cables connecting the user console to the KVM switch. Wireless applications will eliminate the need for bulky cables between the user console and host computers entirely. With their potential for reducing massive amounts of cabling, the need for Wireless KVM is apparent.
Wireless KVM switches operate by placing a transmitter at the target computer along with locating a receiver next to a user console workstation.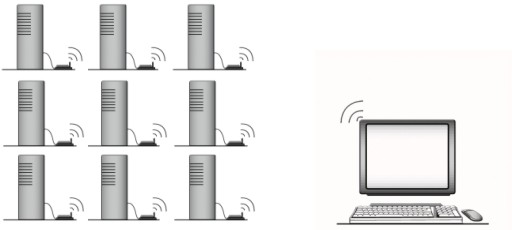 Wireless KVM Configuration Example
One Receiver accessing multiple Transmitters
Another application for Wireless KVM Switches is for Digital Signage applications or for broadcasting video from one source to multiple screens.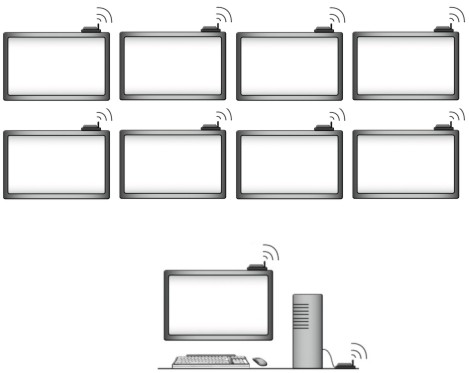 Wireless KVM Configuration Example
One Transmitter broadcasting to multiple Receivers
Contact us to find the best Wireless KVM Solution for your needs.



Our engineers can help you select the best Wireless KVM solution for your needs.
Click here or Call 1-800-638-2638 for a free Data Center project evaluation.