Minicom by Tripplite Smart 216 / 232 CAT5 KVM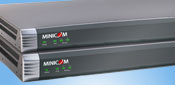 Smart 216/232 Features Snapshot:
Two simultaneous KVM users
BIOS level access and control of up to 16/32 servers/computers
Multi-platform support (PS/2 & USB)
Innovative Minicom KVM over CAT5 technology
Extends distance between servers and switch up to 30m/100ft
Space saving, sleek, 1U rack mountable design
Seamless power control
3 year warranty
Have Questions? Call 1-800-638-2638.
The Smart 216/232 CAT5 KVMs are high-performance KVM switches enabling multi-user access, control and management of multiple servers. they allow two users to control up to 32 mixed-platform (PS/2 & USB) servers and also provides seamless power control via RPS.
Physically the Smart 216 and Smart 232 are thin 1U sized, rack-mountable devices that save critical space in crowded server room environments. They feature Minicom KVM over CAT5 technology that directly connects the switch to each computer in the server room via a Ricc/Roc, eliminating cable clutter and extending the distance between server and switch up to 30m/100ft.
Thanks to their advanced functionality the Smart 216 and Smart 232 overcome many of the challenges facing today's crowded server rooms and data centers. They are the ideal solution for corporate server rooms requiring both a powerful and versatile KVM solution.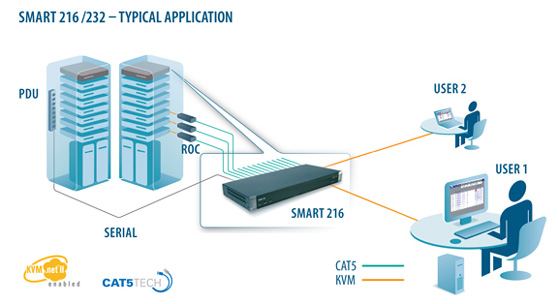 Features and Benefits:
Powerful - Two users can access and control up to 16/32 servers via a single switch
Serial Control - Access PDUs
Scalability - Invest in new equipment at the rate your system grows. Add one ROC per new server
Clean Cable Management - Use low density standard CAT5 cable to eliminate cable clutter
Highest Security Standard - Efficiently prevents unauthorized access and security breaches
Rack Mountable - Rack mounting brackets come included in the package
Extended Distance - Direct connection between computers and switch from up to 30m/100ft
Out-of-Band - BIOS level access, OS independent
Plug and Play - Installation requires no extra software or changes to the infrastructure
Easy Configuration - Browser-based remote configuration. All you need is a web browser. No license needed and no software installed at remote user location
Multi-platform - Supports PS/2 and USB configured servers and computers
Flash Upgradable - Field firmware upgrade for Switches and ROC's
Power Control - Enables seamless power control
Related Products
Ordering Details & Purchasing Options
Is the Smart 216/232 the best solution for your KVM Switch needs?



Our engineers can help you select the best desktop-over-IP solution.
Click here or Call 1-800-638-2638 for a free project evaluation.