ES Series Enclosures

Designed to accommodate servers and conditions associated with them: high density cable management, power options, and cooling capabilities
Sizes ranging from 48"Hx 24"W x 42"D (24 RMU) to 84"H x 30"W x 48"D (44 RMU)

Features:

14 gauge frame, formed 5 times for strength
Door has 3 hinges, allows for 180 degree swing ratio
44 RMU, heavy duty 12 gauge mounting rails, all RMUs are usable
Increased rear vertical capacity (over 9")
3"W x 3"D vertical cable troughs (optional)
Zero RMU 19"EIA mounting for any 1 RMU equipment
Up to 2 vertical troughs & 1 PDU or 1 vertical trough & 2 PDUs per rear corner
Contour Mesh Doors- Standard front & rear
Increased area of mesh & total airflow
Mount LE fans to eliminate hot spots & aid in horizontal ventilation
Standard Easy Latching Handle

E Series Enclosures

Designed to handle telecommunications equipment, computer hardware, and other 19" EIA rack mount equipment
Sizes ranging from 30"H x 24"W x 32"D (13 RMU) to 84"H x 29"W x 36"D (44 RMU)

Features:

Design that yields weight capacities from 300 - 1500 lbs. (depending on enclosure size)
Interior designed for easy 19" EIA rail installation and infinite adjustment.
12 gauge, powder coated "Universal Cage Nut Rail" standard. Cage nut options are M6 or #10-32. If you require tapped #10-32 rails, these will still be available. - Please specify with our Sales Team.
Rails double as cable management with round
cable pass through holes and vertical and horizontal tie down slots.
Rails have RMU markings and standard universal
rail is multi-vendor server compliant.
TRC (True Rail Count) rails - This certifies that the
number of RMU are true and all accessible within the door opening.
Vertical & horizontal cable management lacing bars move independently from the mounting rails. This improved design removes any size restrictions caused by cable trays.
Redesigned bottom that allows for Anti-tip leg option and rear cable entry.
Networking/ganging of enclosures through the corner post, no tools required. This allows you to keep side panels installed when required.

Lake Effect Enclosure

Provides a cooling solution for your data center that does not require water, refrigerants, piping or floor modifications
84"H x 30"W x 48"D (44 RMU)

Great Lakes Lake Effect (LE) Enclosure provides an even
flow of low temperature air to the front intake face of
the servers and electrical equipment mounted inside the
cabinet. The intake fans accelerate the air at its lowest (and traditionally its coldest) point in the data center and direct it within a pressurized plenum chamber to the equipment and their internal fans in order to more efficiently cool the equipment.

Features

Lake Effect base unit with two pairs of powder
coated 19" universal M6 rails and M6 hardware
shipping pallet, and two sets of power strip brackets
Plexi contour door with lower bottom mesh & locking easy latch handle (front)
Mesh contour door with locking easy latch handle (rear)
Pair of solid lift-off side panels
Solid top panel
Vertical cable management tray (2)
Lake Effect fan box kit
Plenum kit

Co-Lo Enclosure

Each compartment features its own cable runs, cooling options, and keyed access
84"H x 28"W x 36"D, Co-Lo Enclosures range from 2 compartments (21 RMU per compartment) to 3 compartments (14 RMU per compartment)

Features:

Pre-assembled to your equipment configuration
Flexible modular concept
Cable access provisions located on top and bottom
Grounding studs on doors, side panels, and base unit
Rack Mount power strips are available (sold separately)
UL60950-1 Standard for IT & Communications Equipment, Cabinet Enclosures and Rack Systems

Is the Great Lakes Server Rack the best server rack for your data center needs?



Our engineers can help you select the best Server Rack for your data center needs.
Click here or Call 1-800-638-2638 for a free data center project evaluation.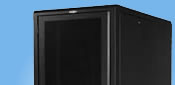 Great Lakes Server Racks
Server Rack Enclosures
Great Lakes also offers a complete line of server rack accessories:
Server Rack Frames
Bottom Panels
Cabinet Extensions
Cable Management
Casters and Levelers
Cooling Solutions
Doors
Door Handles
Filler Panels
Grounding Kit & Copper Bus Bars
Mounting Hardware
Mounting Rails
Power Distribution Units (PDUs)
Server Rack Shelves
Side Panels
Top Panels
Floor Mount Support Brackets
Network/Ganging Kit
Server Rack Lights
RMU Labels