Raritan Dominion KX II-101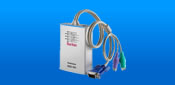 DKX2-101 Features Snapshot:
256-bit AES Encryption
Configurable Strong Password Checking
Group and port-level permissions
RADIUS and LDAP and Active Directory Authentication
Absolute Mouse Synchronization
Next Generation Common User Interface
Plug and Play Appliance Offers Quick and Easy Setup
Non-blocked KVM-over-IP access
"Zero-U" form factor
Virtual Media
Remote Power Control
SNMP Management and Syslog
Centralized management with Raritan CommandCenter Secure Gateway
Have Questions? Call 1-800-638-2638.
The Dominion KX II 101 is a single port KVM-over-IP switch that gives you instant, secure access and control -- even on servers in remote and rugged locations. Designed as a "zero-U," one port/one user device, it provides non-blocking BIOS level access and control of a single server via a dedicated IP address.
A series of enhanced productivity, efficiency, and security features come standard in the KX II-101:
Virtual Media, for transferring files and installing patches and upgrades over IP
Absolute Mouse Synchronization, which reduces installation time and has set a new standard for mouse synchronization in KVM-over-IP sessions
256-bit AES encryption and customizable password settings
"At the rack" access via a local port
Unit can be powered via Power over Ethernet (PoE) or a power adapter
Multi-function serial port for local admin, connecting a Raritan PDU, or an external modem
Integrated remote power management when used with the Dominion PX intelligent PDU


Raritan Dominion KX2-101 Application Diagram
The Dominion KX II-101's unique form factor and non-blocked access make it an ideal remote management platform for:
Small businesses or branch offices that need remote access, but where a multiport KVM-over-IP switch is not required
Small numbers of servers in remote mission-critical environments where the price of multiport KVM switches is not justified, such as pipeline pumping stations, oil rigs and military installations
Environments that require simultaneous, non-blocking connections between large numbers of users and target devices, such as software development labs
Environments where remote access to mission critical servers could be blocked by other remote administrators trying to access other servers
Environments where target devices are often moved around into different configurations, such as test labs and demo rooms
Highly mobile applications such as remote broadcast trucks and police/fire department/EMS mobile command centers
Temporary installations such as conventions, trade shows, client/customer sites and construction trailers
PC-ped, non-IT devices such as retail/point-of-sale displays, signage and kiosks, as well as medical and military equipment
Users who want local port access
Administrators who are looking for anytime, anywhere BIOS-level access via the industry's broadest range of browsers (Internet Explorer, Mozilla, Firefox and Netscape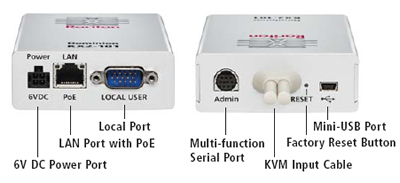 Raritan Dominion KX2-101 Backside View
Features and Benefits:
Non-blocked single-port KVM-over-IP access
Virtual Media: Support for CD/DVD-ROMs, Hard Drives, USB Sticks and ISO Image Files
Absolute Mouse Synchronization: absolute coordinates are used to keep the client and target cursors in sync, even when the target mouse is set to a different acceleration or speed
Security and Encryption: UP-to 256-bit AES or RC4, strong password support, failed log-in lockout
Modem Access: an external modem can be connected via the multi-function serial port
Remote Power Control: Raritan PDU like the Dominion PX can be connected via the multi-function serial port. Requires an optional power cable.
Local Access Port: with optional local port cable
Remote User Interface: Browser-based, common user interface; Virtual KVM Client; Multiplatform Client
Maximum Video Resolution: 1600 x 1200
Centralized Management with CC-SG: available with CC-SG Release 3.2.1 and above
Related Products
Ordering Details & Purchasing Options
Is the Raritan Dominion KX II-101 the best solution for your IP KVM needs?



Our engineers can help you select the best KVM-over-IP solution.
Click here or Call 1-800-638-2638 for a free project evaluation.