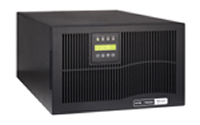 Powerware 9140 UPS series
The Powerware 9140 uninterruptible power system (UPS) delivers de-centralized power protection and power management for medium- and high-density rack environments and superior power management for expanding loads in shrinking spaces. Providing increased power density and power protection capabilities, the 9140 rackmount UPS delivers efficient, reliable power protection in only 6U of rack space, including batteries.
This double-conversion, online rackmount UPS resolves all nine common utility power problems and supplies clean, continuous power to all connected equipment. If utility power goes out altogether, there is no delay transferring to backup power, either to UPS batteries or an auxiliary generator.
Powerware 9140 UPS Features and Benefits:
Protects mission-critical rackmount applications from downtime, data loss /corruption, and process interruption by providing continuous, clean power with double-conversion, online topology

Conserves valuable rack space with up to 10 kVA of power in only 6U of height, including batteries

Pre-installed rackmount hardware significantly reduces installation time

Modular, lightweight design facilitates installation and improves service time

Upgradeable from 7.5 kVA to 10 kVA, to accommodate system growth

ABM technology significantly increases battery life, resulting in more uptime and fewer battery replacements

Lightweight hot-swappable battery and electronics modules allow for easy installation and service

Extends battery runtime for up to 45 minutes with up to four 3U EBMs

Intuitive LCD interface provides detailed information and UPS management in multiple languages

USB and serial ports standard, optional X-slot communication card

Backed by two-year limited warranty, 10-year pro-rated warranty and $250,000 load protection guarantee

Powerware 9140 UPS Technical Specifications
Electrical Input
Nominal input voltage
Single-phase
200-208V (for 200-208V nominal output); 220-240V
Three-phase
380/220V, 400/230V, 415/240V
Input voltage range
Single-phase
160-253V (for 200-208V nominal output); 174-288V (for 220-240V nominal output)
Three-phase
301-499V / 174-288V
Operating frequency
45-55 Hz range for 50 Hz nominal;
55-65 Hz range for 60 Hz nominal
Input power factor
PF > 0.99
Input current distortion
<5% THD
Electrical Output
Single-phase
200V / 208V / 220V / 230V / 240V
user-selectable
Output voltage regulation
+/- 2% static, +/- 10% dynamic
Efficiency
>90%
Output Frequency
Automatic selection of 50 Hz nominal
(+/- 3.5 Hz) and 60 Hz nominal (+/- 3.5Hz)
Battery Type
12V, 5 Ah, sealed, lead-acid, maintenance-free
Battery Replacement
Modular, hot-swappable, user-replaceable
Charger
2.5A charger to support up to 4
additional EBMs
Start-On-Battery
Allows startup of UPS without utility input
Communications
LCD Display
Multilingual Graphical LCD with backlight
LEDs
(4) LEDs for notice and alarm
Communication Ports
(1) USB, (1) RS-232 serial, (1) REPO
Communication Slot
(1) X-Slot communication bay
Power Management Software
Bundled software suite CD
Powerware 9140 is HID-compliant
General
Dimensions
HxWxD, in / mm
PW9140 UPS
10.5 (6U) x 17 x 30.0 / 263 x 430 x 760
PW9140 EBM
5.25 (3U) x 17 x 26 / 131 x 430 x 660
Weight
PW9140 UPS
254 lb
PW9140 EBM
175 lb
Battery Module
37 lbs
Power Module
40 lbs
UPS Bypass
Automatic on overload, overtemp, UPS failure, or removal of power module
Overload to bypass
+/- 10% of 112 to 130% for 60 seconds, transfer
Environmental
RoHS Compliance
EU RoHS / WEEE Compliant
Operating Temperature
0°C to 40°C (32°F to 104°F)
Transit and Storage Temperature
-20°C to +50°C (-4°F to 122°F)
Relative Humidity
0-95% non-condensing
Altitude
Operating 3000m, Transit 15000m
Audible Noise
<55 dBA at 5 feet
Certifications
Safety Certifications
UL, cULus, NOM, TUV, CE
EMC Compliance Markings
FCC, CE, VCCI, C-tick

Powerware 9140 UPS Models
Model
Part Number
Input Connection
Input/Output Voltages
Power Rating
Run times
half/full load (mins)
Price
PW 9140 7500
103005094-6591
(1) IEC-309
208, 220, 230, 240 VAC/208, 220, 230, 240 VAC
7500
18 / 7
$5,919
PW 9140 7500 HW
103005093-6591
(1) Hardwired
208, 220, 230, 240 VAC/208, 220, 230, 240 VAC
7500
18 / 7
$5,394
PW 9140 10000
103004727-6591
(1) IEC-309
208, 220, 230, 240 VAC/208, 220, 230, 240 VAC
10000
12 / 5
$6,779
PW 9140 10000HW
103004728-6591
(1) Hardwired
208, 220, 230, 240 VAC/208, 220, 230, 240 VAC
10000
12 / 5
$6,344
Powerware Three-Phase UPS System

Eaton Powerware UPS Appliance
Power Range
Topology
Powerware BladeUPS
Powerware BladeUPS System expands power protection from 12 kW to 60 kW in a single industry-standard 19" rack.
180 to 265 Vac, 311 to 519 Vac
Online, Double-conversion on Demand