Raritan Power IQ Data Center Energy Management Software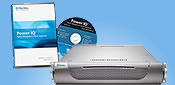 Power IQ Features Snapshot:
User configurable dashboard
Agentless graceful shutdown of Windows®, Linux® and Unix® device groups
Psychrometric chart to calculate possible energy savings from simply increasing temperature
Energy cost bill-back reports to drive behavior
Decommission flags to forecast energy savings when eliminating servers
Baseline consumption and changes of various energy saving initiatives
Capture peak loads under compute stress to identify excess power capacity in the rack
Power capacity forecast charts
Power capacity utilization gauges
Smart Rack View with Quick Charts
Have Questions? Call 1-800-638-2638.
The Raritan Power IQ energy management software automates secure, time-based power control and enables powerful analytics reporting of energy cost, temperature, active power, line capacity and carbon footprint. It enables managers to improve data center availability, enhance power capacity planning and improve energy efficiency.
Trending reports and cumulative totals can be displayed at the data center, floor, room, rack, customer and IT device level. Customer energy billback cost reports can also be generated in your local currency with one click.
Power IQ manages Raritan's Dominion PX and third-party rack PDUs, including APC, Server Technology and more. The system is open database compliant (ODBC) and can be integrated with your current data warehouse and enterprise reporting system. It simplifies PX configuration and firmware management. Security is ensured with standards-based authentication, Web session timeout and IP-based access control.
Efficiently Utilize Energy
Power IQ provides you with valuable information and automated control that can help you gain efficiencies in the data center right away, including:
Baseline data center energy usage by IT device, rack, zone, customer, department and data center
Measurement of energy improvements
Understanding of which systems are candidates for consolidation
At-the-rack temperature measurement to identify areas to adjust cooling
Energy cost billback reports with one click
Tracking changes in carbon footprint
Remote power on/off and automated power control, saving energy and equipment
Make Informed Capacity Planning Decisions
Power IQ lets you accurately monitor and measure key power data, so you can manage current needs and plan for future growth. Capabilities include:
Collecting actual current draw to compare to rated capacity
Collecting and grouping actual power load to update design assumptions
Monitoring trends to understand future needs
Finding hot spots and eliminating them by making informed add/move decisions
Web Interface Screen Shots
Simplified PDU Management

Bulk configuration
Firmware management
Outlet naming

Create Custom Reports

Report Option A via:

Outlet
IT Device
Customer
Department
Rack
Zone
Floor
Data center

Report Option B via:

Active Power
Energy
Carbon
Cost

Export Graphed Data to CSV

Click to export any graphed data
Features and Benefits:
Rack PDU Management
A central management console consolidates names, polling status, location, model and firmware onto one screen, saving valuable management time
Bulk configuration of and firmware distribution for PX PDUs save time
Automated Power Control
Remote power control of outlets, IT devices, device groups and racks
Automated load shedding
Power and Environmental Data Aggregation
User configurable collection intervals ensure desired
accuracy while minimizing network traffic
Aggregate active power, current, temperature and humidity data
Reporting
Energy, cost and carbon consumption reports keep customers and/or internal departments informed
Carbon certificate report helps you certify usage change from one period to another to support carbon credit claims
Exception reports help you find stranded power capacity
Trending and status reports help you easily see future capacity needs
Open Data Model
Open database connectivity capabilities let you use your existing data warehouse and reporting system to generate custom reports
Import and export data via CSV file
Security
LDAP/AD integration offers easier centralized authentication
Trusted host definitions can be assigned so only named hosts can access the system
Up to 256-bit AES encryption protects your information
Easy and comprehensive user device grouping and permission management
Related Products
Ordering Details & Purchasing Options
Is the Raritan Dominion the best solution for your KVM Switch needs?



Our engineers can help you select the best desktop-over-IP solution.
Click here or Call 1-800-638-2638 for a free project evaluation.