BayTech's MRP Modular Rack Power system provides reliable power distribution with maximum flexibility for receptacle selection and power input. BayTech offers two classes of the MRP system. Switched and monitored and simply monitored. User friendly interface for controlling power to receptacles, monitoring Current, Voltage, Watts, Temperature, Humidity, and KW Hour Meter.
All Circuit Breakers Monitored

Most metered power solutions only monitor input power. BayTech monitors all circuit breakers and reports via SNMP when thresholds met.

Locking C13 Receptacle Optional

Reliable integrated locking clips assure power cord retention. Unique to the industry and does away with nuisance wire clips.

Reliable PCB Power Distribution

ISD's (Insulation Displacement) connectors are faulty and un-reliable! All BayTech power solutions use reliable PCB power distribution.

Integrated Sensor Inputs

Eliminate the need for extra environmental monitoring devices. All BayTech power solutions offer two ports for external temperature and humidity probes.
Is the BayTech MRP the best Rack PDU for your power needs?



Our engineers can help you select the best Rack PDU solution for your power needs.
Click here or Call 1-800-638-2638 for a free data center power project evaluation.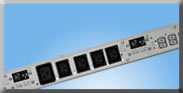 BayTech MRP Rack PDU
Control and Circuit Metering PDU
The BayTech MRP offers many benefits:
Standard Features:
High and Low Density Models
120/208/AC Single Phase
208/400VAC Three Phase
20,30,50,60 Amp Support
On/Off Reboot Control
HTTPS,SSH,SSL Access
Radius, TACACS Authentication
Tool less Mounting
Unique Features:
Modular Design
All Circuit Breakers Monitored
KW Hour Meter
Current, Voltage and Watt Meters
Integrated Locking C13 Receptacle (Optional)
Reliable PCB Power Distribution
Fail Functional Design
Related BayTech Product Families: