Raritan PC Share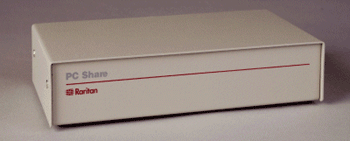 Raritan PC-Share
Access one PC, either PS/2 or AT, from multiple locations
Share PC application data and peripherals
Maximize PC utilization, save steps, increase productivity
Secure PC in clean, safe place
Extend stations with coaxial or Category 5 UTP cable
Raritan PC Share Multiple Stations for One PC
PC-Share is designed to provide a simple, cost-effective means to allow several user stations to share PC resources. With PC-Share, more than one user station, each with a keyboard, VGA monitor and PS/2 mouse, can alternately access and operate one PC from locations up to 650 feet away from the PC.
Raritan PC Share Convenient Access
Up to five user stations can be connected for convenient access to the PC from wherever you need to be. User adjustable time-out and private view functions make operation simple and secure.
Two to five user stations can share access to one PC, either PS/2 or AT. All users can take control of the PC on first-come first-served basis. Only one user station (keyboard and/or mouse) is "active" at any one time. That active user station has exclusive control of the PC until the user is idle exceeding time-out limit. All attached monitors display that PC's video output unless the active user invokes the "Private View" function. The user can adjust time-out limit from 2 to 99 seconds.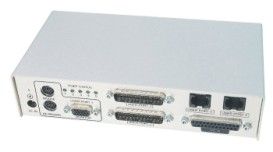 Raritan PC-Share (rear view)
A 2-foot cable, CCP06U, is provided to connect PC-Share to the PC's keyboard, VGA video, and mouse ports. Optional extension cables up to 30 feet are available.
For user station 1, plug the peripherals directly into the PC-Share. For user stations 2 and 3, use coaxial extension cables (CCPnnF) in lengths of 2, 5, 6, 13, 20, and 30 feet. For user stations 4 and 5, use standard Category 5 UTP cables up to 650 feet. The single PC can then be accessed and operated from any of the user stations.
Raritan PC Share Features
Raritan PC Share Easy "plug and play" installation
Connect user stations with coaxial or Category 5 UTP cable
Raritan PC Share lets you locate PC-Share up to 30 feet from PC
Raritan PC Share lets you locate user stations up to 650 feet away
Raritan PC Share keyboard and mouse emulation for error-free operation
Raritan PC Share user adjustable "time-out" limit for equal access
High-resolution Raritan PC Share supports VGA, SVGA, XGA video at any distance
Raritan PC Share Private View function to blank video on selected monitors
Raritan PC Share Supports any brand PC, Alpha, RS/6000, HP9000, SGI
Raritan PC Share support Mac and Sun with Raritan's Guardian converters
Raritan PC Share Specifications of Components
PC-Share unit for 5 stations
Dimensions: W x D x H
7.534" x 4.125" x 1.703" (267mm x 191mm x 44mm)
Weight: 2.5 lbs / 1.1 kg
Power: 6V DC (Adapter included)
Connection to PC: 2-foot universal cable kit CCP06U included; Extension to 30 feet available
User Port 1: 6 pin keyboard, 6 pin mouse, HD15
User Port 2, 3: DB25 for CCPnnF cable
User Port 4, 5: RJ45 for Category 5 UTP cable
Optional Receiver for Category 5 UTP cable access
Dimensions: W x D x H
4.30" x 3.60" x 1.00" (109mm x 91mm x 25mm)
Weight: 0.5 lbs / .2 kg
Power: 6V DC input (Adapter included)
User Ports: 6 pin keyboard, 6 pin mouse, HD15