Raritan Paragon II Cat5 KVM Switches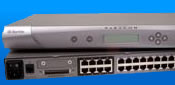 Paragon II Features Snapshot:
Add, relocate and hot-swap components without disruption as your data center needs change
Add stacking units for up to 128 server ports
Easily connect up to 42 Sun, USB and/or PS/2 servers on a single Cat5 cable chain, using P2ZCIMs
Streamlines management capabilities with event logging and audit trails
Distributed architecture lets you physically position servers and users where desired
Multiple video enables multiple user stations to simultaneously view the video outputs of servers with multiple video ports (two or four)
Allows seamless access to all operating systems, platforms and connections: Linux, Windows NT, UNIX, Novell, Sun, IBM RS/6000 and pSeries, IBM BladeCenter, HP 9000, Alpha, SGI, ASCII/serial, USB or PS/2
In addition to standard mice and keyboards, Paragon II also supports the Kensington Expert Mouse, primarily used in Mac environments, and Cortron keyboards, designed for use in rugged, harsh environments
Provides a single, consolidated view of all connected devices
Add, remove or edit users
Automatically detect power strips and associate power outlets with attached devices
Perform system wide firmware upgrades
Log and audit system events
Power on, power off or recycle power to servers and other attached devices
Define security levels for individual users on a per-outlet basis
Automatically displays power strips and Paragon II targets on the connected ports
Have Questions? Call 1-800-638-2638.
The Raritan Paragon II is an enterprise-class Cat5 analog KVM solution that provides up to 64-users with secure, real-time access and control of thousands of servers and serial devices. Now enhanced with secure smart card (also known as common access card, or CAC) technology, Paragon II's superior KVM switch technology supports the highest video resolution in the industry. It combines non-blocked access with the industry's highest port density, optional integrated KVM-over-IP and rich management capabilities.
Paragon II offers flexibility and manageability through access to leading servers, including IBM BladeCenter, power strips and other IT devices. Also, optional KVM-over-IP access is available for easy remote access.
The Industry's Best Video Performance
Paragon II offers the industry's best video quality with resolutions as high as 1920 x 1440 – at distances of up to 1,000 feet (305 meters) – at refresh rates of 60 Hz, and 1600 x 1200 – at distances greater than 1,000 feet (305 meters) – at refresh rates of 60 Hz, 75 Hz and 85 Hz. Paragon II supports automatic skew compensation and widescreen resolutions, such as 1440 x 900.
The Multiple Video feature enables up to 16 user stations to simultaneously receive the video output from multiple servers or servers with multiple video ports. And Video Redirect provides easy redirection of video to any user station within a Paragon II system – a natural fit for NOC displays, video walls, broadcast control rooms and more.
Integrated Smart Card Reader for Enhanced Security
Paragon II supports multifactor authentication access to Windows® and Linux® servers with smart card technology, which strengthens security, contributes to compliance with U.S. Homeland Security HSPD-12 and increases staff productivity by simplifying administrative tasks.
Partnering with SCM Microsystems, a leading supplier of standards-compliant smart card readers, Raritan integrated the SCM reader into our Paragon II Enhanced User Station (model numbers P2-EUST/C and P2-EUST/C-GOV). The Paragon II smart card reader solution supports CAC and PIV cards, and is FIPS 201 approved.
Audio and Digital Video Support for Media and Broadcast Applications
Paragon II includes a control interface for the NVISION® NV5128 audio/video router from Miranda Technologies – delivering not only audio to Paragon II users, but digital video as well. The control interface is built into Paragon Manager® , which continuously monitors usage of Paragon II, and through the NV5128, "switches" audio and/or digital video to users based on easy mapping that's configured by an administrator.
Engineered for Enterprise
Raritan's Paragon II is a proven, stackable switch, the perfect infrastructure component for all high-density server environments, including:
Corporate data centers
Server farms
Co-location facilities
Web-hosting facilities
Hardware and software testing labs
Broadcast production facilities (via NVISION NV5128 and Deko® FastAction Keyboard support)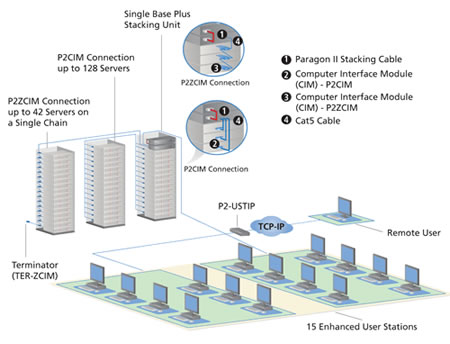 Raritan Paragon II Example Configuration
Features and Benefits:
Main Switching Unit (M model): A secure, intelligent, non-blocked control unit that connects users to servers. Its stackable architecture provides the industry's highest port density, making it ideal for large data centers with densely packed racks.
Stacking Unit (S model): A unique, cost-effective, space-saving expansion unit that easily brings each switch up to 128 non-blocked server ports with less cable than cascading. Stacking units reduce the clutter of multiple cables between tiers, as well as save rack space and HVAC costs.
Enhanced User Station (P2-EUST and P2-EUST/C): The P2-EUST connects the user's keyboard, video and mouse to the main switching unit. Its On-Screen User Interface (OSUI) provides easy, intuitive access to attached servers. In addition to all of the features available in the Enhanced User Station, the P2-EUST/C offers the added security of an integrated smart card reader, a FIPS 201– approved solution that supports the use of CAC and PIV cards.
Easy IP Access: Raritan offers two convenient solutions for accessing Paragon II over an IP network. First, the P2-USTIP uses the familiar Raritan Remote Client GUI and combines user station and IP gateway functionality into a single device with a slim form factor. It also provides power on/off/recycle capabilities for remote power strips. The P2-USTIP supports 128-bit SSL encryption and local authentication through the Paragon II. The Dominion KX II may also be used for IP access to Paragon II. This option is perfect when the access solution requires both analog and IP access, or when support of an authentication/authorization platform is needed. CommandCenter Secure Gateway may also be used when accessing Paragon II through the Dominion KX II.
User Expansion (P2-HUBPAC): Now field upgradeable, it connects up to four Paragon II KVM switches, giving up to 64 users non-blocked access to target devices.
Computer Interface Module (CIM): CIMs connect Cat5/5e/6 cabling from the switch to the KVM ports of the target server (including IBM BladeCenter), providing "keep-alive" keyboard/mouse emulation to the server.
Daisy Chain Capabilities (P2ZCIM): You can easily connect up to 42 PS/2, Sun and/or USB servers on a single Cat5 cable chain, using only one server port on a Paragon II unit. It can extend distances of up to 1,000 feet (305 meters) from the main switching unit to the last P2ZCIM in the chain.
Related Products
Ordering Details & Purchasing Options
Corporate & Government Discount Pricing is available. For more information call 1-800-638-2638.
Is the Raritan Paragon II the best CAT5 KVM solution for your server management needs?



Our engineers can help you select the best CAT5 KVM.
Click here or Call 1-800-638-2638 for a free project evaluation.