NTI VOPEX PS/2 KVM Splitter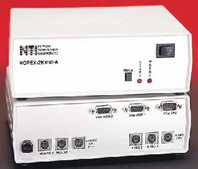 VOPEX-2KVIM-A KVM SPLITTER (Front & Back)
NTI PS/2 KVM SPLITTER
| | |
| --- | --- |
| | Buy Online |
UP TO 4 KEYBOARDS, MICE & MONITORS CAN BE CONNECTED TO THE SAME PC.

Also known as: video splitter, VGA splitter, keyboard monitor mouse splitter, PS/2 keyboard splitter, VGA video splitter, reverse KVM switch.

Features & Applications

These KVM splitters allow up to 4 keyboards, monitors & mice to control one PC.

Access one computer from multiple locations.
Multiple users can enter data into the same program.
Interconnect NTI switches and splitters for complex applications.
Compatible with all PS/2-style PCs, RS6000, SGI and HP9000.

Specifications
Control Methods

Monitor

Female 15 pin HD connectors for VGA monitor.
Bandwidth is 150 MHz, supporting 1900x1200 resolution.

Keyboard

Female 6 pin miniDIN connectors.
Keyboard & mice can be hot-plugged.
In Inst or Delay Mode, typing or mouse movement activates user control.

Mouse

Female 6 pin miniDIN connectors for PS/2-style mice on VOPEX-xx-IM models.
The following devices are also supported on VOPEX-xxxx-A models:

Alps Glidepoint Touchpad.
Logitech (and other) 3-button mice.
Microsoft Ballpoint mouse.
Microsoft Intellimouse.
IBM Scroll Point mouse will function as a two-button mouse. Extended stick functions are not supported.

The devices listed above are fully supported unless otherwise noted. However, some mouse types cannot be mixed on the same splitter. Ask about these and any other limitations before ordering if you plan to use a device listed.

Power

110 or 220 VAC at 50 or 60 Hz.




Press MODE button to cycle through all 6 modes. LEDs indicate which mode is selected.
USER 1 Mode Only USER 1 can type or move the mouse.
USER 2 Mode Only USER 2 can type or move the mouse.
USER 3 Mode Only USER 3 can type or move the mouse.
USER 4 Mode Only USER 4 can type or move the mouse.
INST Mode Keyboard or mouse activates immediately
DELAY Mode Locked out user(s) must wait five seconds after last keystroke or mouse movement occurs on active user.

Cables

Three-foot interface cables are provided to connect your PS/2 keyboard, mouse and video ports to the VOPEX-xKIM-A, VOPEX-xKVIM-A.
Extend high resolution to 250 feet with our VEXT-xx cables.

AVAILABLE SIZES & INTERFACE CABLES
Connectors
NTI Part #
# of Ports
Extension & Cables
Size (In.) WxDxH
Keyboard
Monitor
Mouse
Computer
PS/2 or PS/2 Clone

Keyboard
6 pin miniDIN

Monitor
VGA

Mouse
Serial, 9 pin D or
6 pin miniDIN

Audio
3.5 mm stereo jack

Mouse Only
VOPEX-2IM-A
2
N/A
N/A
VKEXT-xx
8x6.2x2.6
Keyboard Only
VOPEX-2K
2
N/A
N/A
6x6.2x2.5
Keyboard & 6 pin miniDIN Mouse
VOPEX-2KIM-A
2
N/A
VKEXT-xx
8x6.2x2.6
VOPEX-4KIM-A
4
N/A
8x6.2x2.6
Keyboard & Monitor Only
VOPEX-2KV-A
2
VKEXT-xx
VEXT-xx
N/A
8x6.2x2.6
VOPEX-4KV-A
4
N/A
8x6.2x2.6
Keyboard, Monitor & Serial Mouse
VOPEX-2KVMM-A
2
MMEXT-xx
8x6.2x2.6
VOPEX-4KVMM-A
4
8x6.2x2.6
Keyboard & 6 pin miniDIN Mouse and Monitor
VOPEX-2KVIM-A
2
VKEXT-xx
8x6.2x2.6
VOPEX-4KVIM-A
4
8x6.2x2.6
Keyboard, Monitor, 6 pin miniDIN Mouse, and Audio
VOPEX-2KVAIM-A
4
8x6.2x2.6
VOPEX-4KVAIM-A
4
8x6.2x2.6