Raritan EMX Smart Rack Controller and Sensors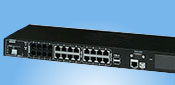 EMX Features Snapshot:
Works with Raritan's Power IQ® energy management software and dcTrack® DCIM software
Up to 16 sensors per EMX2-11
1
Up to 128 sensors per EMX2-888
Wired or wireless network options
USB camera option
Monitor temperature, humidity, airflow, air pressure
Contact closure support – enables use of additional sensors, including water, smoke, door open/closed and door locked
Intelligent asset management tracking - Works with Raritan's AMT/AMS tags and sensors
Have Questions? Call 1-800-638-2638.
Every data center has some method of monitoring temperature even if it is just a thermometer or a thermostat on a data center wall. But today, that is hardly considered a best practice. The American Society of Heating, Refrigerating and Air-Conditioning Engineers (ASHRAE) recommends measuring the cool air entering IT equipment near the bottom, in the middle and near the top of each IT rack. Today, many data center managers want to equip their racks with ways to detect water, smoke or when a cabinet door is opened. Some want to install cameras for security so they can spot changes or remotely view the physical environment.
Now it is easy to add simplified yet comprehensive environment monitoring to your IT racks. Raritan's EMX offers up to eight Raritan sensor ports, eight feature ports for Raritan's dynamic asset-tracking solution, and eight RS-485 ports, all in a 1U form factor.
Raritan's smart rack controller allows you to use any of Raritan's sensors such as temperature and humidity, Raritan's Power IQ® energy management software, or the asset management solution composed of the AMT and AMS intelligent asset tags, and dcTrack® data center infrastructure management (DCIM) software or a third-party asset management system with SNMP capability.
The 1U device functions as an SNMP gateway with ports for Raritan's 1-Wire® sensors, as well as ports for RS-485 serial, KVM, DB-9 modem/console, USB-A and USB-B and contact closure.


Raritans EMX SmartRack system provides numerous sensor options
Features and Benefits:
Simple yet comprehensive environmental monitoring at the rack
Raritan's rack monitoring solution helps you manage the physical environment of your rack. With this solution and the appropriate sensors you can:
Minimize the hours needed to track IT assets, thereby saving time and money
Ensure uptime by monitoring racks for possible hot spots
Save on cooling costs by confidently raising data center temperatures
Maintain cabinet security with USB webcams and contact closure sensors
Improve data center uptime by receiving environment alerts
Optimize strategic and tactical decision making for the IT environment by tracking IT changes and growth in real time
Related Products
Ordering Details & Purchasing Options
Is the Raritan Dominion the best solution for your KVM Switch needs?



Our engineers can help you select the best desktop-over-IP solution.
Click here or Call 1-800-638-2638 for a free project evaluation.