Liebert SiteScan Web
Liebert SiteScan Web provides comprehensive monitoring and control of your critical facility support systems and lets you do it from virtually anywhere in the world.

Liebert SiteScan Web allows you to monitor and control virtually any piece of critical support equipment whether it's located in the next room or in a facility on the other side of the country. The web-based system provides centralized oversight of Liebert precision air, power and UPS units, as well as many other analog or digital devices. Features include real-time monitoring and control, data analysis and trend reporting, and event management.
Real-Time Monitoring And Control With Liebert SiteScan Web you can get a real-time status "snapshot." It allows the operator not only to access current data but to interact with graphic programming logic in real-time for full control functionality. During an alarm, the system can provide instant information - a view of actual performance. This allows for quick equipment assessment and the ability to take corrective action based on current, factual information.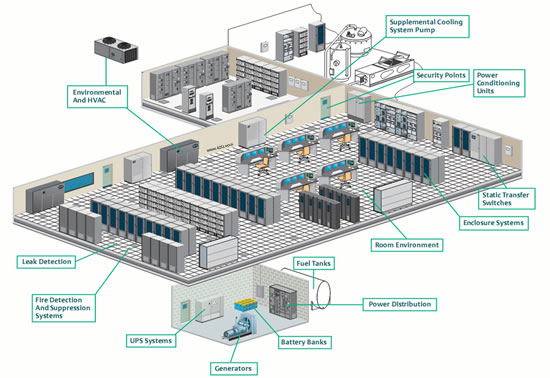 Event Management And Reporting
Liebert SiteScan Web will show you exactly where the problem is-not some cryptic message that will leave you guessing. Events and alarms associated with a specific system, area or equipment selected in the navigation tree are displayed. This view allows you to monitor alarm or event information geographically, as well as to acknowledge events, sort events by category, actions and verify reporting actions.
Data Analysis And Trend Reporting
With Liebert SiteScan Web you get powerful tools to analyze data and use it to prevent specific problems from occurring again. The operator can view trends by using the navigation tree and selecting the "trends" button in the graphic window. Users can create custom trend data that consist of one or more multiple data points.
Enhanced Trend Reporting
With Liebert SiteScan Web you get a comprehensive report writing tool to create customized reports.

Getting The Right Information To The Right People
Liebert SiteScan Web's alarm management features give you automatic notification of alarms including graphical display and audible alarm annunciation, pager and fax interfaces and can even notify Liebert's Remote Monitoring Service. Alarm management and event notification insures that alarms are detected and acted upon, which allows problems to be quickly resolved.
During an alarm, Liebert SiteScan can provide instant status information. This allows for quick equipment assessment and the ability to take corrective action based on current, factual information.
System Features And Functions Make The Difference Liebert SiteScan Web offers a number of unique operational features that make it comprehensive yet easy-to use. These involve the areas of security, accessibility, internationalization, operating features, subsystems, open standards, ease-of-learning, system configuration and reliability.

Track Changes To Plan The Future
Liebert SiteScan Web provides trend and historical analysis including easy-to-read graphs and the ability to export data to Microsoft Excel for in-depth analysis of data.
With Liebert SiteScan Web you get powerful tools to prevent specific problems from occurring again.
Accessing Data Has Never Been This Easy
One of the most powerful features within Liebert SiteScan Web is the ability to easily export current and historical data to external sources that create reports to help gain an understanding of the Data Center's efficiency, redundancy and overall capacity.
Liebert SiteScan Web can provide trend and historical analysis in a graphic format: easy-to-read charts and comparative analysis of multiple parameters at one time. It's easier to compare and differences can be spotted more quickly. Problems can be solved in many ways, but the best solutions usually start with good information delivered quickly. Liebert SiteScan Web gives you both.
Site monitoring is a critical element of maintaining maximum availability for your critical operations. Hundreds of facilities around the country count on the peace-of-mind they receive knowing that a Liebert SiteScan system is constantly on the job watching over the operation of these critical sites. Simply put…Liebert SiteScan delivers the information you need to protect and manage your facilities more efficiently and effectively.

With Liebert SiteScan Web you can utilize today's Web technology to oversee and control critical support systems from just about anywhere.

Liebert SiteScan Web combines open standards technology with the limitless potential of the Internet. The result is the best of both-a system that provides utility, connectivity and speed. But Liebert SiteScan Web is more than just technology…it's our most intuitive, feature-rich and easy-to-use product to date. Some of the important areas that distinguish Liebert SiteScan Web from other monitoring systems include:
The Use Of Open Technologies
Proprietary systems are history. Today's open standards have introduced new levels of operational efficiency, flexibility and cost-effectiveness for critical monitoring. With open architecture, users can install integrated, easily-modified systems utilizing innovative combinations of familiar components such as Java, Microsoft FrontPage, Internet Explorer and interoperable databases.
Liebert SiteScan Web was built from the ground up around open web technology. It is not a browser enabled "bolt on" to an existing proprietary software package where functionality through the browser is limited. Any device with the appropriate web standards support becomes a full-featured operator interface with the system. This is an important distinction because "full-featured" includes navigation, viewing, event management, data analysis in real time-in other words, all the capabilities you would want in a high-quality front-end monitoring package.
Powerful And Intuitive Operation
Since 1990, Liebert SiteScan critical monitoring systems have led the way with dynamic, custom color graphics that set the industry standard in quality, convenience and ease of use. The system's graphical user interface provided status and control at a glance, while alarm management and comprehensive trend history functions captured critical data and aided in diagnostics. Now, all of this functionality is available through a standard web browser with Liebert SiteScan Web. With it, users can access their system from any type of webenabled device, such as a standard PC, cell phone or personal digital assistant (PDA)-and maintain the same functionality without any special software or additional plug-ins.
Overall Reliability
The distributed hardware architecture of Liebert SiteScan Web allows you to achieve the "high nines" reliability you require. Each component of the system includes high performance microprocessor and memory to ensure that data integrity is established at the hardware level, unlike systems that require extensive polling to achieve data transfer. Liebert SiteScan Web hardware provides delivery of data, even when communications is lost and then restored. The system does this by accumulating data at the module level so that loss of system communications does not mean lost data.
System Security
Web-based systems have an advantage over their conventional counterparts because they can take advantage of security features that have been developed to protect bank transactions, personal information and other sensitive data routinely transmitted over the Internet. Liebert SiteScan Web can utilize secure sockets layer (SSL) and secure HTTP (https:) as well as most other administrative policies that are established for your environment such as Virtual Private Networks (VPN). For added security, operators are assigned specific roles and privileges in addition to initial log-on and password protection.
Liebert SiteScan Internationalization
In addition to English, Liebert SiteScan Web is designed to simultaneously support Italian, Korean, Chinese, Spanish, French, German and Dutch, allowing multiple operators to access the same information at the same time in their respective languages.
Liebert SiteScan Data Center Monitoring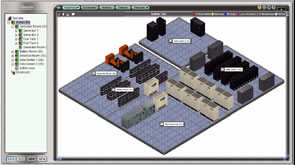 Liebert SiteScan Floor Plan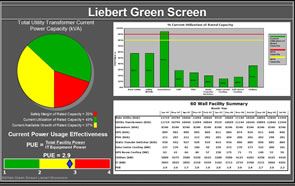 Liebert SiteScan Green Screen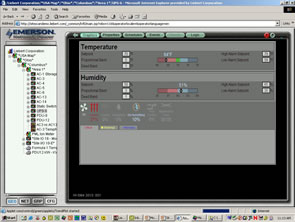 Liebert SiteScan Temperature & Humidy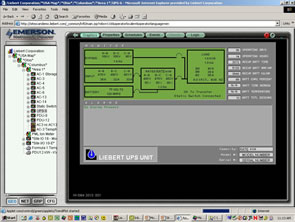 Liebert SiteScan UPS View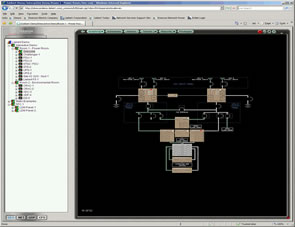 Liebert SiteScan Line Diagram View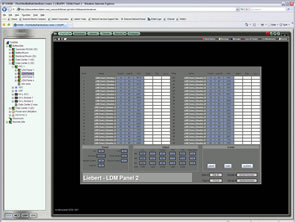 Liebert SiteScan LDM Panel
Available Reporting Actions
Event Notification:
Getting the right information to the right people.

Data Delivery:
Proactive management through: Trends, Graphs, Report Generation and Dashboards.

BMS Integration:
Making the most of your investments and infrastructure; build redundancy through dual monitoring.

NMS Notification:
Provide notification to your already installed network monitoring systems; again, building reliability and redundancy.

24 x 7 Remote Management Services:
For lights out, event escalation or vendor management solutions.