The Minicom DX matrix system is more than just another KVM matrix switch. The DX system gives you a highly secure, integrated, flexible and supremely scalable solution for 24x7 BIOS-level control and management of high-density mission critical server environments.

Flexible local or remote access - you decide the right IP mix for your business, seamless cascading, seamless power management, dual KVM-Serial control of the same device, automatic system configuration, maximum business value and ROI.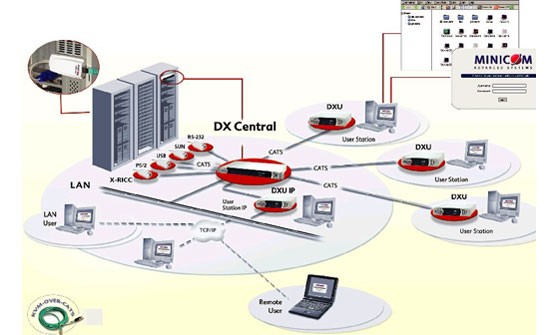 Minicom DX Matrix Advanced Integrated Management Options
The Minicom DX matrix system combines four major functions in one unified solution: KVM switching and control, serial control, power management, and user management.
The Minicom DX system unifies these four functions using AIM (Advanced Integrated Management), is an innovative embedded LINUX operating system that supplies advanced management functionality in a hardware-only solution.
AIM combines the management of all four major functions within a single intuitive, Windows-like interface, for truly unified administration of your server environment.
Minicom DX Matrix Components
The Minicom DX Matrix system consists of the following units:
Minicom DX Matrix Central Manager unit

Minicom DX 432 (4-Users, 32-Ports)

Minicom DX 832 (8-Users, 32-Ports)

Minicom DX Matrix User Station

Minicom DX Matrix User (2:1)

Minicom Server Interface Modules




Minicom X-RICC PS/2


Minicom X-RICC USB

Minicom X-RICC SUN

Minicom X-RICC RS232
Minicom DX Matrix KVM Switch Features and Benefits
Non-blocking, out-of-band, BIOS level access Unified, one-stop local and remote control
Revolutionary embedded management functionality in a pure hardware solution Intuitive, windows-like GUI replacing the legacy OSD
State-of-the-art CAT5 all-the-way technology
Multi-level security blocks
Multi-user, multi-functional, multi-platform matrix solution Flexible local or remote access - you decide the right IP mix for your business
Seamless cascading Seamless power management
Dual KVM-Serial control of same device Automatic system configuration
Minicom DX Matrix KVM Downloads & Manuals

Minicom DX KVM Switch Matrix Specifications
Minicom DX KVM Matrix System
System Cable
CAT5, CAT6, CAT7
Resolution
1600x1200 @75Hz
Mouse Support
PS/2, Wheel mouse, 5-button mouse, Microsoft intellimouse
Operating Systems
DOS, Windows (3x, 9x,ME, NT4, 2000, XP, 2003 Server and later), Linux, UNIX, HP UX, QNX, SGI, FreeBSD, BeOS, Open VMS, Novell 3.12-6, Solaris, Java Desktop System
Management
AIM (Advanced Integrated Management), RS-232 Control software
Security
Password, multiple-user profiles
User to server distance
200m/660ft
Operating Temperature
0?C to 40?C / 32?F to 104?F
Storage Temperature
-40?C to 40?C/-40?F to 104?F
Warranty
3 years
Minicom DX Matrix Units
Type

| | |
| --- | --- |
| DX Central Unit | DX User Unit |

Cables/Connectors

Computer Ports-32 RJ45
Users Port - 4/8 RJ45
Serial Ports - 2 X DB9
LAN - RJ45
Power

System - RJ45
Local Console and CPU KVM + Serial
Video - HDD15
Keyboard/Mouse - MiniDin6
Serial - 2 X DB9
Power
2XUSB (Future Application)


Rack Mountable

Yes

Dimensions

| | |
| --- | --- |
| 43.2x27x4cm / 17x11x1.6" | 21.6x27x4 / 8.5x11x1.6" |

Power Consumption

100 - 250 VAC 50/60 Hz
Minicom DX Matrix Remote Units
Type

| | | | | |
| --- | --- | --- | --- | --- |
| RICC PS/2 | X RICC PS/2 | X RICC SUN | X RICC USB | X RICC RS232 |

Cables/Connectors

System - RJ45

Video - HDD15 Keyboard/Mouse

Power-Jack

MiniDin6

MiniDin8

USB

Power-Jack


Rack Mountable
Yes
Server to DX Central Distance
Dimensions

24x91x41mm / 0.94x3.58x1.61"

24x91x41mm / 1.05x3.58x1.77"

Power Supply

From Keyboard

From USB

Power Adapter
Minicom DX Matrix Ordering Information
Minicom DX Central Unit
Part Number
Online Pricing
DX 432
0SU60002A
DX 832
0SU60003A
Minicom DX User Unit
DXU
0SU60001A

Minicom Remote Interface Cable

X RICC PS/2
0SU51059
X RICC USB
0SU51050
X RICC RS232
0SU51052A
RICC PS/2
0SU51066