Raritan Dominion KX II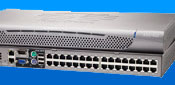 KX II Features Snapshot:
1, 2, 4 or 8 remote KVM-over-IP channels
Highest port density in the industry – models available
with 8, 16, 32 and 64 ports
Dual power supplies with failover
Dual gigabit Ethernet ports with failover
Browser-based local user port for at-the-rack access
SNMP management and syslog logging
Platform independent – CIMs available for PS/2,
USB, USB with virtual media, Sun and Sun USB
External modem for emergency access
Supports Dell®, HP and IBM® blade servers
Have Questions? Call 1-800-638-2638.
Click here to see the next generation Dominion KX III
The Raritan Dominion KX II is an enterprise-class, secure, KVM-over-IP switch that provides BIOS-level control of up to 64 servers. This IP KVM solution includes standard features such as Virtual Media and dual power that maximize performance, security, reliability and versatility. Raritan's Universal Virtual Media lets administrators perform tasks such as installing software, transferring files and backing up data. A user can mount drives and media from the user's desktop to servers in the data center during a KVM session.
Raritan's Virtual KVM Desktop allows users to scale a target server's display to any size from thumbnails to full screen video. Transparent keyboard handling sends virtually every keystroke combination straight to the server. Plus, it provides an intuitive user experience - whether the target servers are being accessed locally or remotely - through a common browser-based user interface. This interface supports the industry's widest range of operating systems and browsers.
The Dominion KX II also features Absolute Mouse Synchronization, which reduces installation time and sets a new standard for mouse synchronization. Combined with high-quality, 1600 x 1200 video resolution, Virtual KVM Desktop and Virtual Media features, it provides the industry's most flexible and responsive remote user experience available. And with dual power supplies and dual gigabit Ethernet ports, both with automatic failover, the Dominion KX II is the most reliable digital KVM switch in the industry.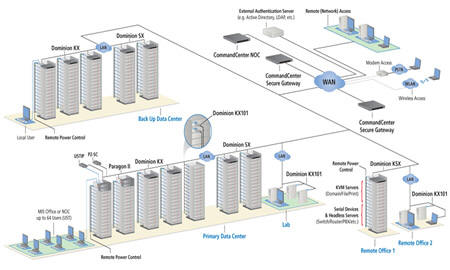 Raritan Dominion KX II Application Diagram
Features and Benefits:
The Dominion KX II solution consists of the KVM over IP switch and Computer Interface Modules (CIMs)
Each CIM connects to the server's KVM ports and converts video signals for transmission of up to 150 feet over UTP cabling. CIMs also provide keep-alive keyboard/mouse emulation
Dominion KX II offers KVM over IP capabilities for remote access, plus simultaneous local access for controlling servers at the rack.
Remote users easily access Dominion KX II from Windows, Linux, Sun or Mac desktops via a wide range of Web browsers or standalone client via modem. Raritan's remote client software is automatically downloaded via Web browser; standalone versions of client software can be pre-installed for modem access.
Dominion KX II provides its entire feature set out of the box: Virtual Media, AES encryption, dual power supplies and dual gigabit Ethernet ports with failover, SNMP, Syslog, as well as integration with LDAP, Radius and Active Directory authentication.
Related Products
Ordering Details & Purchasing Options
Is the Raritan Dominion KX II the best solution for your remote access needs?



Our engineers can help you select the best KVM Over IP solution.
Click here or Call 1-800-638-2638 for a free project evaluation.