Raritan dcTrack Data Center Infrastructure Management Software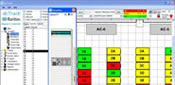 dcTrack Features Snapshot:
Reduce capital spending by optimizing capacity planning and improve power infrastructure provisioning.
Reduce and control energy costs with real-time power usage monitoring and granular power usage breakdown.
Prepare, plan and execute a data center relocation project into a new facility with confidence.
Reduce costs by visualizing the data center floor and cabinet elevations remotely in a lights-out operation.
Reduce costs by eliminating the need to manually trace circuits and connections and eliminating the need to run new cables or add new equipment by easily identifying unassigned connections and unused equipment ports.
Plan network, power and cooling requirements by reviewing current loads and future trends.
Reduce the mean time to repair (MTTR) by accelerating the investigative process to identify the incident cause. Since about 80 percent of incident repair reflects time to track down and identify causes, dcTrack dramatically reduces both time and costs.
Quickly identify user departments and applications that are affected by a server shutdown, a virus attack or a partial power failure.
Control access to data center items by using a robust change management and work order system.
Comply with Sarbanes-Oxley Act & FDA regulations; FDA regulation 21 CFR Part 11 establishes stringent standards of data security, data integrity and traceability
The Raritan dcTrack is a data center infrastructure management (DCIM) solution providing powerful and intelligent tools for data center automation. dcTrack has been designed from the ground up by data center professionals to provide broad and deep visibility into the data center. It empowers data center managers to plan for growth and change by optimizing their current operations, assets and infrastructure. dcTrack enables data center managers to maintain accurate views across the entire data center - from servers, blades, virtual servers and applications, to data networks, IP addressing space and cabling, to real-time views of power consumption and heat dissipation, to raised floor space and rack elevations.
Isolating potential problems is fast and easy with dcTrack. End-to-end power and data circuits can be visually and accurately traced while identifying all intermediate circuit points. dcTrack offers a feature-rich, easy-to-use and intuitive user interface loaded with visualization tools. Significant design effort was directed towards ensuring that all inter-related tasks are executed from a single screen. Built-in intelligence, rules and automation of common tasks greatly enhance the user experience, thus reducing user workload.
Click here to see the next generation Dominion KX III
A sampling of dcTrack Screenshots:
Capacity Management and Dashboard

dcTrack provides real-time resource utilization data for better electrical, cooling, floor, cabinet, cable and network capacity planning. Quickly see how much capacity you're using and more importantly, how much is available

Intelligent Search, Place and Reserve

Quickly find space, power and network connectivity for IT devices, simplifying capacity planning and change management. Reserve capacity for future provisioning of new IT equipment.

Visualize Floor Map

The data center floor map is linked in real-time to the AutoCAD® or Visio® floor plan. Any changes made to the CAD background are immediately visible and recognized as new objects in dcTrack. dcTrack users can define their own custom views for quick access to their resources. A management dashboard offers several color-coded charts to easily view heat and power load distributions as well as data network and cabinet resources throughout the data centers.

Visualize Cabinet Elevations

dcTrack provides a quick and simple method for data center managers to visualize a group of cabinet elevations on a single screen. Cabinets can be grouped by physical adjacencies such as data center rows or logical groupings based on cabinet content. With another click, the elevation views can be changed to front, rear, or descriptive text views. Whether viewing the cabinet row from the front or rear, the cabinet left to right order can be set to match actual order or alphabetical order.

Visualize Item and Port Trace

Once the cabinet elevation is visualized, dcTrack provides extensive views to drill down on item and port details. By simply clicking on an item in the cabinet view, a detailed image of the item is presented depicting all ports with dynamic labels. This image can be changed to front or rear views with a single click. The end-to-end circuit map of a port is visualized by clicking on a port label for further drill down
Features and Benefits:
Data Center Visualization
Visualize AutoCAD® floor plan drawings in real time without the need for an AutoCAD license or software. Changes made to AutoCAD floor plans are immediately visible in dcTrack.
Visualize color-coded floor plans that summarize low, medium and high utilizations of key data center attributes such as heat dissipation, power usage, weight and rack mounting space.
Navigate interactive hyperlinked drawings for deep visibility of floor space, cabinet front and rear elevations, device images and ports.
Drag and drop network and power port labels on the front and rear images of items to depict their exact physical locations.
Visualize relationships and dependencies between user departments, applications, PDUs, cabinets, servers and networks.
Visualize a group of cabinet elevations based on physical or logical groupings.
Visualize end-to-end power and network circuit maps including all intermediate circuit points.
Visualize PDU and RPP circuit breaker panels. The breakers are hyperlinked to trace the entire circuit downstream identifying all connected items.
Use an extensive visual library of items and connectors depicting equipment front and rear views and attributes such as rack units and weight. Easily add to library by importing manufacturers' free Visio® stencils.
Multi Data Center Support
Manage multiple data center sites regardless of their geographic locations.
Store all sites in one ODBC-compliant, scalable SQL server database.
Data Center Asset Management
Track financial asset information including purchase date, purchase price, department cost center, asset tag and maintenance contracts.
Track physical asset information including rack units, dimensions, weight, manufacturer, model and serial number.
Track logical asset information including function, operating system, administrators and user departments
IP and Network Management
Manage logical relationships and connections between servers and network switches based on IP subnet addresses.
Define subnets using an intelligent IP address calculator that computes, among other things, the number of hosts in a subnet based on a subnet mask.
Identify VLAN, color code and subnet's physical location based on an IP address.
Manage VLANs by controlling the list of subnets served by each switch.
Assign a new IP address automatically when a server is being moved to a location served by a different subnet.
Configure a server port with multiple virtual IP addresses or implement port teaming for two or more ports.
Manage network switches and ports whether they are stackable or chassis form factor.
Raritan's dcTrack Infrastructure Management offers many more features. Call a 42U Sales Consultant today to learn more!
Purchasing Options
Is the Raritan dcTrack the best Infrastructure Management Software for your needs?



Our engineers can also help you select the best DCIM solution.
Click here or Call 1-800-638-2638 for a free project evaluation.