Avocent DSView 4.0 Management Software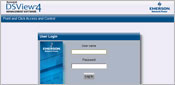 DSView 4.0 Features Snapshot:
Secure, remote, centralized data center management of both physical and virtual assets from a single interface
Access service processors from all major server manufacturers
Data logging/archiving for regulatory and audit compliance
Remote problem resolution
DS Zones for increased control
Hub and spoke architecture for redundancy and real-time synchronization
Simple yet precise user permissioning with authentication through internal or external services such as LDAP, active directory, NT domain, TACACS+, RADIUS or RSA SecureID®
Open framework database for custom reporting options
FIPS 140-2 appliance compliance support, and 2048 SSL certificate
VMWare, Citrix XenServer and Hyper-V support for virtual data center assets
Have Questions? Call 1-800-638-2638.
The Avocent DSView™ 4 management software provides data centers with a secure, centralized management solution for all IT assets, including virtual and blade servers, VMware and service processors. DSView 4 lets administrators access, diagnose and modify any managed device from any point on the globe, regardless of the health or status of the operating system or network connection to those devices. DSView 4 software makes data center management accessible, manageable, secure, and extensible.
Accessible
The DSView 4 software "hub and spoke" architecture allows for high availability and distributed, consolidated access across locations. The out-of-band features of the DSView 4 software allow administrators to diagnose and repair problems even when gateways, routers or other IP connectivity is down.
Manageable
DSView 4 provides a single, secure, browser-based interface to manage an entire data center, including the following:
Blade servers, enclosures
VMWare® Virtual Infrastructure, ESX Servers and Virtual machines
Citrix® XENServer™
Rack mounted servers
Microsoft Hyper-V
Avocent KVM over IP switches
Avocent Advanced Console Servers (ACS 5000/6000)
Power Management Power Distribution Units (PM PDUs)
Service Processor Managers (SPM)
Embedded server management technologies
Third party PDUs and KVM over IP appliances
DSView 4 software provides custom views for each user, graphical report building and task automation tools, along with a holistic view of your network assets no other system can equal. Administrators can design custom reports to fit the needs of individual data centers.
Secure
DSView 4 easily integrates with existing security infrastructure, authenticating against internal or external standards-based services. All traffic is encrypted and the detailed activity logs provide a critical audit trail for issue resolution and regulatory compliance. With the inclusion of FIPS 140-2 appliance compliance and 2048 bit SSL certificates, DSView 4 upgrades security features for a variety of markets. By minimizing the need for local access in the data center, these remote management capabilities allow sensitive machines to be physically locked down for greater peace of mind.
Extensible
Data centers evolve. Whether migrating to blades, experimenting with SANs or simply deploying new routers, DSView 4 software helps maintain control by integrating with new technologies and by providing a consistent management interface, regardless of your underlying infrastructure. DSView 4 software offers integration with NetClarity, Uptime Devices, VMWare and others. It also provides an API to integrate third-party applications, tools and systems.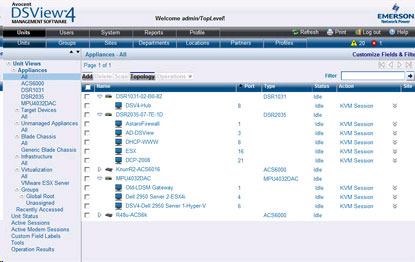 DSView 4.0 Management Software interface Screenshot
Features and Benefits:
Secure, Remote, Centralized Data Center Management - Access and control your entire IT assets (physical and virtual) from a single screen
Multi-Device Support - Click and connect centralized management for blades, VMware virtual infrastructure, KVM over IP switches, MergePoint service processor managers, ACS advanced console servers, PM power distribution units (PDUs), select third-party KVM and PDUs
Virtual Media Support - Map smart card/CAC readers, CD-ROMs and other media to a remote server to pass credentials, transfer files, apply application and OS patches and CD-ROM diagnostics
Integrated Solution for KVM and Power Control - Integrates BIOS-level access and power control in one solution and provides external modem support when the network is down
Simple, Fast and Reliable User Interface - Browser-based, customizable with usability features including keyboard pass-through, scaling and custom viewer toolbar
Access Service Processor Managers - Administrators can manage power and system health on individual IPMI-enabled servers through the MergePoint service processor managers
Notifications - SNMP traps and email notification for defined system events
Scheduling - Simplify management of routine tasks, updates and file loading, including automation of task schedules and updates
Multi-Platform Support - Wintel, Linux, Sun Solaris and SuSE platforms
Failover Authentication - Hub and spoke architecture, provides failover access authentication, ensuring system reliability and security
Flexible Authentication/Access Controls - Authenticate user permission against your existing internal or external authentication service, such as LDAP, Active Directory, NT Domain, TACACS+, RADIUS and RSA SecurID
System/User Logs - System and user log management and event notification to help facilitate auditing and compliance
Selectable Encryption Modes - Gain enhanced security as selectable encryption modes can support your security policy (AES, DES, 3DES, 128bit SSL)
Exit Macros - Log out each user when a session window is closed
DS Zones - Restrict user access by zones for easier tracking and auditing
Related Products
Ordering Details & Purchasing Options
Is Avocent's DSView 4.0 the best management software for your data center?



Our engineers can help you select the best management solution.
Click here or Call 1-800-638-2638 for a free project evaluation.