Modular Server Room Air Conditioners
This Server Room Air Conditioner is designed to cool a small physical area with a heat load of 10,000 Btu/hr (3kW) or less. A typical small server room or wiring closet is a perfect environment for a modular AC unit, as the closet is usually less than 100 square feet and will generally have a heat load ranging from 3,500 to 9,000 Btu/hr (1.03 - 2.64 kW). These types of server room air conditioners also work well within a larger physical area, where additional cooling may be needed, by delivering the cold air directly to the small area producing the heat. A large data center being cooled by a Computer Room Air Conditioner (CRAC) often has racks populated with high density servers that are not being cooled properly. Installing this type of server room air conditioner, near the specific rack, may solve the heat problem.

Server Room Air Conditioner Application Example
Server Room Air Conditioning Principles
Cold Air Delivery (Spot Cooling) - efficiently cools any environment by delivering cold air directly to the hot spot (i.e. electronic equipment) instead of cooling the entire environment. This results in substantial savings by enabling users to purchase a properly sized server room air conditioner, as well as reduces energy consumption.
Condensate Removal - will not only reduce the temperature, but will also remove moisture from the air by collecting condensate in its standard 2.5 gallon tank. The tank will need to be emptied periodically, depending on the humidity level. A condensate pump is a valuable accessory that allows continuous operation without monitoring, in which the pump delivers the condensate to a nearby sink, drain, or water line.
Warm Air Removal - will remove warm air from any small, enclosed environment, such as an office. This is done by ducting the warm air up into the drop ceiling plenum above the room.
Power - uses standard 115 VAC, a common voltage in the United States. It is recommended that this server room air conditioner operate on a dedicated 15 amp circuit.



What Server Room Air Conditioner is the best solution for your cooling needs?



Our engineers can help you select the best server room air conditioning unit.
Click here or Call 1-800-638-2638 for a free server room cooling project evaluation.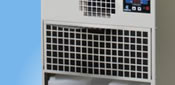 Modular Server Room Air Conditioner
Server Room Air Conditioner benefits:
Compact unit provides 10,000 btu/hr of cooling per module
Automatic restart function for power outages
High airflow volume increases air circulation throughout the room
Highly economical and efficient way to cool "hot spots"
Quick and easy installation
Cost-effective alternative for weekend of after-hours cooling when the main system is shut down
Portable unit conveniently rolls into tight spaces
Multiple units can be stored in closet so you're prepared for planned or unplanned outages of main cooling
UL Listed for ceiling plenums
Installs into any standard 19-Inch rack open rack
Uses standard 115 VAC power source
Can Provide N+1 cooling redundancy