The Liebert CRV is a self-contained precision cooling system that installs within a row of data center racks-close to the server heat source-for the most efficient cooling of critical IT equipment.
The rack-sized Liebert CRV provides high capacity cooling in a small footprint and features the Liebert iCOM Control System that modulates unit performance in real-time, based on conditions in the row. Monitoring up to 10 racks with 20 sensors, the Liebert CRV precisely controls air temperature, humidity and filtration in the surrounding racks.
Liebert CRV is available in 20 or 35 kW air cooled and water/glycol cooled systems, and 40 kW chilled water cooled systems. 60 Hz models. Horizontal airflow, suitable for raised or non-raised floors.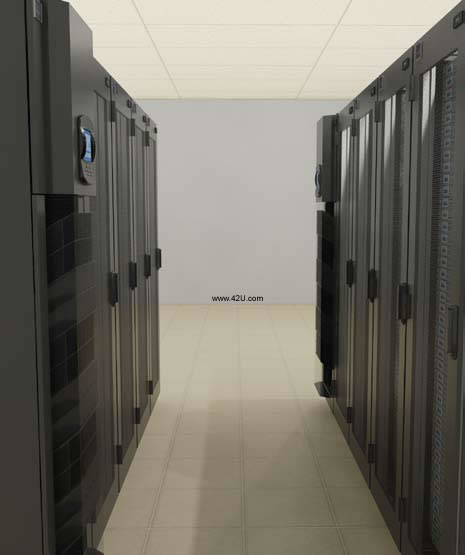 The Liebert CRV is a in-row AC unit that provides efficient cooling directly to the heat source. Utilizing shorter air flow paths, the CRV is able to maximize its capacity by capturing higher return temperatures directly from the hot aisle, nearly eliminating entirely air mixing. The CRV is an ideal solution for end users looking to maximize the useful life of existing facility or those asked to support high density cluster or blade chasis. The CRV can provide up to 35kW of cooling in a single standard server rack footprint, allowing you to maximize valuable real estate by eliminating the need for large HVAC systems set on the perimeter of the room. With its high density cooling capability, the CRV allows end users to utilize more of their valuable rack space. The CRV eliminates the need to pressurize the raised floor and room, providing precision cooling directly to the server inlets. The CRV is available in both DX and Chilled Water applications and can also be used to supplement existing cooling strategies while not relying on existing air flow delivery mechanisms.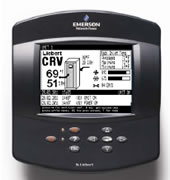 Liebert CRV iCOM Control System Interface
The Liebert iCOM control system provides advanced control and monitoring capabilities to Liebert CRV units, allowing up to 32 cooling units to work together as a single system to optimize room performance and improve energy efficiency. Liebert iCOM controls offer a variety of advantages, including icon-based navigation, adjustable control algorithms, and data center monitoring capabilities.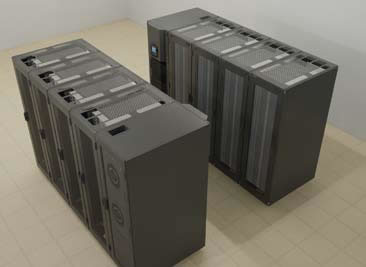 Liebert CRV In Row Cooling System Application Example
Liebet CRV is the Right Cooling Choice for a Range of Data Center Applications
Liebert CRV Used in a hot aisle/cold aisle layout, the Liebert CRV pulls air from the hot aisle, filters and conditions it, and then delivers cool air to the front of equipment racks. Adjustable supply air baffles direct cool air to the left, right, or both sides as needed.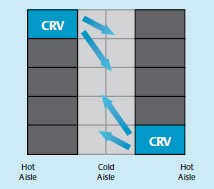 Liebert CRV systems operating in hot aisle / cold aisle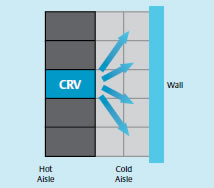 Liebert CRV adapts to obstructions, such as walls and racks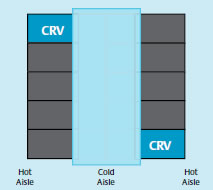 Liebert CRV combined with Cold Aisle Containment

For data centers where heat density needs to be increased without installing a raised floor or a higher roof, the Liebert CRV and Emerson Network Power SmartAisle cold aisle containment is an ideal solution. The Liebert CRV can also work well with Data Center Curtains to achieve Cold Aisle Containment.

The Liebert CRV is Designed For Reliability and Energy Efficient Operation

Liebert CRV Rack Sensors
Two temperature sensors are placed at the inlet of up to 10 racks. Liebert CRV reads the sensors and adjusts airflow and temperature to ensure the proper operating conditions for the rack equipment.

Liebert IntelliSlot Communication Cards
The Liebert CRV includes two Liebert IntelliSlot card slots for easy plug-in of optional communication cards:
Liebert IntelliSlot Web Card delivers SNMP and HTTP web-management communications capabilities for monitoring and control through your existing network with no additional software required.
Liebert IntelliSlot 485 Communication Card allows remote monitoring and control of Liebert CRV using RS-485 Modbus through Liebert SiteScan Web or your existing Building Management System.
Liebert CRV Digital Scroll Compressor
The exclusive Digital Scroll Compressor uses the latest control technology to deliver precise operation and significantly higher energy efficiency than other compressor technologies. In addition to the advantage of the dependable scroll design, Digital Scroll technology provides infinitely variable capacity modulation between 20-100% to enable the output to precisely match the changing cooling demands of the room.
More efficient than traditional hot-gas bypass approach.
Improved reliability by reducing compressor cycling and component wear.
Improved performance because the compressor can easily adapt to changing load conditions and provide precise temperature control.
Superior oil return compared to inverter-driven compressors.
No harmonic noise issues, unlike inverter-driven compressors.
Liebert CRV EC Plug Fans
EC fan technology works to regulate airflow and reduce fan input power. You can have confidence that the EC Fans, managed through Liebert iCOM controls, deliver airflow for the optimal operating conditions for IT equipment.
Speed controllers on each motor eliminates a single point of failure.
Additional airflow available for emergency conditions and elevation correction.
Liebert CRV Adjustable Baffles
Modular air supply baffles direct the cold air to the servers, and may be adjusted anytime cooling needs change. When Liebert CRV is installed at the end of a row, the air is directed down the aisle toward the servers - not lost to the room.
Variable EC Fans regulate airflow and reduce the fan input power; resulting in up to 50% less power used by the fans compared to traditional perimeter cooling.

High Performance Air Filters are easily accessed through the back of the unit.

Digital Scroll Compressor enables the variable cooling capacity to precisely match changing cooling demand without cycling on and off, reducing energy consumption and extending compressor life.

Liebert iCOM Control presents up to 11 temperature measurements and unit performance in an easy to understand graphical summary.

2T Rack Sensors provide two temperature readings per rack to ensure the proper amount of cold air is provided to eliminate hot spots.

Adjustable Baffles direct airflow right, left or both directions, allowing you to easily change the airflow distribution as your cooling needs change.

Blue-tinted hydrophilic cooling coil disburses water quickly, preventing carryover of water into the cold aisle.

R-410A Refrigerant is environmentally friendly and meets the latest government standards.

Liebert IntelliSlotTM Communication Cards can be accessed without entering the high voltage panel and allow the system to communicate with remote infrastructure management systems.
Liebert CRV installs at the ends or within the row of racks on non-raised or raised floor applications.
Ideal for hot/cold aisle configurations.
Rows should have full height racks, no missing racks and minimal cold aisle obstructions.
Ensure obstruction exists (rack, wall, etc.) directly across from cooling unit.
Blowing air one direction, versus both, is best.
Optimal performance when used with an Emerson Network Power SmartAisle containment system.
Is the Liebert CRV the best high density solution for your cooling needs?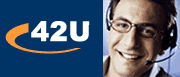 Our engineers can help you select the best in row cooling solution for your cooling needs.
Click here or Call 1-800-638-2638 for a free In-Row project evaluation.