CPI Passive Cooling Solutions is a cost effective and cooling effective thermal management solution. It provides superior equipment cooling performance while reducing your data center cooling energy costs. By offering innovative airflow management techniques, CPI Passive Cooling Solutions allow you to maximize your cooling efficiencies without the need for additional CRAC units, in-row air conditioners or risky liquid cooling solutions. From small applications with heat loads of 2 kW per cabinet to large data center applications with heat densities up to 30 kW, CPI Passive Cooling Solutions provide advanced thermal management with zero points of failure, thus delivering a Tier IV solution.

The passive cooling technology found with CPI's TeraFrame Family of Cabinets and T-Series SteelFrame Cabinet helps reduce data center operating costs, maximizes cooling unit efficiencies and minimizes your environmental impact, making CPI Passive Cooling Solutions the Simply Efficient choice.

How CPI Passive Cooling Solutions Keep Equipment Cool:
To maximize effective cooling capacity of your cooling system, it is important to manage the airflow through, over and around equipment cabinets. Improve cooling effectiveness in the data center using one of the following three CPI Passive Cooling Solutions:

Eliminate Hot Air Recycling Through The Cabinet:

By blocking airflow through open rack spaces with filler panels, less hot air
is re-circulated to the front of the cabinet. However, hot air can still go
around the sides, top and bottom of the equipment mounting space. CPI's Air Dam Kit blocks this space by creating an effective front-to-rear (cold/hot) barrier to airflow (Fig. 1).

When you use the Air Dam Kit with the Snap-In Filler Panels, the temperature of air entering the top half of the cabinet is lowered because hot air is not re-circulated through the cabinet. Air still re-circulates over the cabinet, but airflow is now one-way through equipment.


(Fig. 1) CPI TeraFrame Cabinet with Air Dam Kit and Snap-In Filler Panels

Increase The Amount Of Cold Air Entering The Cabinet:

Cold air available to a cabinet is often limited to the amount of cold air entering the room through the vented access floor tile located directly in front of the cabinet. To increase the amount of cold air available to each cabinet, seal cable access holes with KoldLok Raised Floor Grommet and use the Internal Air Duct instead of the Air Dam Kit.

The Internal Air Duct delivers additional cold air to the top half of the cabinet. This cold air lowers the temperature of air at the top of the cabinet. Note the lower temperatures in the space between the front of the cabinet and the duct in the CFD model (Fig. 2). In addition to eliminating hot air recirculation throughout the cabinet, this step will help reduce the negative effects of hot air traveling over the cabinet into the cold aisle.


(Fig. 2) CPI TeraFrame Cabinet with Internal Air Duct and Snap-In Filler Panels.

Isolate Hot Air From The Room:

As heat loads increase, so does the demand for cold air. Hot air re-circulates over the cabinet causing temperatures near the top half of the cabinet to increase. Manage high heat loads by eliminating hot air re-circulation over the cabinet with a ducted hot air return (Fig. 3).

Use CPI's Vertical Exhaust Duct System (includes; Vertical Exhaust Duct, Server Top Panel, Airflow Director and a Rear Door Sealing Kit) with the Air Dam Kit to create a ducted exhaust cabinet. Hot air is isolated from the room and returned to the primary cooling system through the drop ceiling plenum or ducted return positioned high above the cabinet. Because hot air is isolated in the duct, you can place vented access floor tiles anywhere in the room to deliver additional cold air to equipment. The resulting lower room temperature eliminates the need for supplemental liquid or active cooling solutions.


(Fig. 3) CPI TeraFrame Cabinet with Vertical Exhaust Duct System, Air Dam Kit and Snap-In Filler Panels.
CPI Passive Cooling Benefits:
Lowers construction costs relative to active cooling solutions- no additional power or plumbing requirements necessary
Reduces operational costs by completely isolating hot exhaust air from cool supply air, maximizing cooling unit efficiencies
Reduces energy consumption by providing 100% HVAC utilization of cool supply air
Reduces cooling costs up to 40%, and save 90% on energy costs when combined with other technologies like heat exchangers and economizers.
Allows for higher Delta T's between the data center cooling air and exhaust air, which maximizes cooling unit efficiencies
Allows for raised set points (thermostat setting) on cooling units, lowering energy consumption and costs
Permits for higher heat densities/power densities based on maximizing cooling efficiency
Allows for Tier IV operation because there are no moving parts that require redundant systems
Blocks by-pass airflow around equipment, reducing wasted cooling capacity
Eliminates dependence on close proximity of perforated floor tiles to cabinets by creating a consistent air temperature throughout the room
Permits chilled water temperatures to be increased, providing means for more economizer days while using the same space
Is the Chatsworth Passive Cooling the best cooling solution for your data center?



Our engineers can help you select the best cooling solution for your data center.
Click here or Call 1-800-638-2638 for a free data center project evaluation.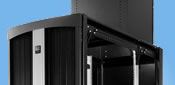 Chatsworth Passive Cooling
CPI Chimney Rack
CPI Passive Cooling/ Chimney Rack Applications:
Mitigating problem cooling areas/hot spots
Upgrading equipment to higher heat/power densities while using the same space
Converting an existing space/room/building into a data center (brown field)
Designing and building a new data center (green field)