Hot aisle containment for high-density configurations.
The APC Hot-Aisle Containment System (HACS) is a row based containment system for high density designed to maximize in-row cooling predictability, capacity, and efficiency. Mixing of hot and cold air streams in the data center lowers availability of IT equipment. Returning the warmest possible air to the computer room air conditioners increases the efficiency and capacity of the system. The hot aisle containment system ensures proper air distribution by completely separating supply and return air paths. The hot aisle is sealed off using doors and transparent ceiling tiles that extend the width of the hot aisle. Ceiling tiles are available for both 19" and 23" racks. Two-rack kits complete with ceiling tile and hardware are available for future expansion.
Features:
Hot air containment eliminates hot spots by preventing hot air recirculation into sensitive IT equipment
Scalable densities allows for higher density cooling to be achieved by integrating the Hot-Aisle Containment System with in-row architecture
Scalable design allows for quick deployment of high density clusters and addresses changing needs and future expansion with pay-as-you grow architecture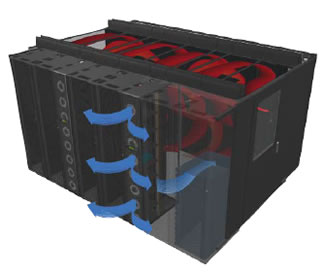 APC Hot Aisle Containment Airflow Diagram
When designing a system with hot aisle containment it is best to design the rack cluster as if it were an open aisle, and then add containment to further improve the predictability of the system. Installations for high density applications that will rely on redundancy to ensure maximum uptime will benefit the most from hot aisle containment. Cooling failures that may yield unacceptable performance, based on the airflow calculation that is performed, can be improved by adding a containment system.
Is the APC Hot Aisle Containment the best solution for your cooling needs?



Our engineers can help you select the best hot aisle containment solution for your cooling needs.
Click here or Call 1-800-638-2638 for a free data center cooling project evaluation.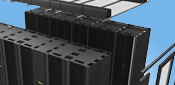 APC Hot Aisle Containment
The APC Hot-Aisle Containment System (HACS) offers many benefits:
Agility:
Ceiling tiles Close off the top of the hot aisle to prevent warm air from mixing with room air.
One-way locking door Secures the hot aisle while allowing for quick exit in case of emergency.
Scaleable densities Allow higher density cooling to be achieved by integrating the hot aisle containment system with in-row architecture.
Modular design Modular design provides scalable solutions to add cooling as demand increases.
Total Cost of Ownership:
Energy efficiency Increases cooling capacity of the associated air conditioners without driving up power consumption.
Availability:
Cable access brush strip Blocks air from escaping through holes surrounding cabling.