Pumped Refrigerant Based Cooling for High Heat Density Applications
The Liebert XDV rack cooling module mounts vertically on or above the IT rack enclosure, requiring no floorspace. It can either draw in hot air directly from inside the cabinet or from the hot aisle, and discharge cool air down into the cold aisle where the electronic equipment air inlets are located.
The Liebert XDV is a part of our high heat-density cooling product family that utilizes pumped refrigerant technology. The pumped refrigerant operates at low pressure in the system and becomes a gas at room conditions, making it ideal for use around electronic equipment. Since the Liebert XD system always provides 100% sensible capacity, the need for humidification is significantly reduced, further reducing energy usage and maintenance.
Smart Module technology:
Liebert XDV Smart Modules include integrated control boards that provide the following capabilities:
Save energy by shedding a fan, based on the supply and return air temperature at the module
Monitor the status of individual fans on the module with an on-unit, red/green LED
Be alerted to the presence of condensation
Remotely shutdown the module via dry contact closures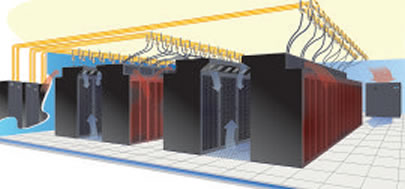 Liebert XDV high density cooling works well with the hot aisle/cold aisle approach
The XDV system allows cooling-strapped data centers to add capacities without new construction. For Greenfield data centers, these systems can serve as dedicated cooling or can complement the baseline cooling and humidity control of traditional Liebert CRAC/H units.

Is the Liebert XDV the best high density solution for your cooling needs?



Our engineers can help you select the best high density solution for your cooling needs.
Click here or Call 1-800-638-2638 for a free In-Row project evaluation.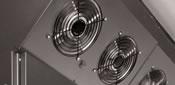 Liebert XDV
High Density Cooling System
The Liebert XDV offers many benefits:
Flexibility:
Scalable.
Can cool more than 10 kW per rack.
Smart Module or Standard configurations available.
No floor space required.
Complements Liebert precision cooling units.
Optional pre-charged flexible piping with threaded quick connect fitting allows adaptive and scalable expansion without interruption of cooling operations.
Flexible installation - mounts on top of the cabinet or suspended from the ceiling.
Excellent for spot and zone cooling.
Compatible with Liebert XDP, Liebert XDP with iCOM and Liebert XDC systems.
Higher Availability:
Uses pumped refrigerant, which is ideal for use around electronic equipment.
Dual (A and B) detachable power cords for increased uptime.
Complete packaged unit includes enclosure, coil, controls, fans and piping.
Low Total Cost Of Ownership:
Superior cost for cooling per high heat density rack.
Highly Energy Efficient
Ideally Suited For:
Supplemental sensible cooling for high heat density racks or zones
Production Facilities