The Liebert Cold Aisle Containment system ensures that the cold air flowing though the raised floor is channeled through the cabinets. As a result all installed servers are provided with consistent cold air over the entire height of the cabinet.
The Cold Aisle Containment principle essentially means a constant separation of cold zones and warm zones, and incorporates the following factors:
Raised floor sealing: Cable entries in the cabinets can be effectively sealed with Koldlok brush systems; perforated panels are only used in the cold zone
Cabinets sealing with trims and 19" blanking panels
Customized cold aisle containment using standard components - compatible with all manufacturer cabinets.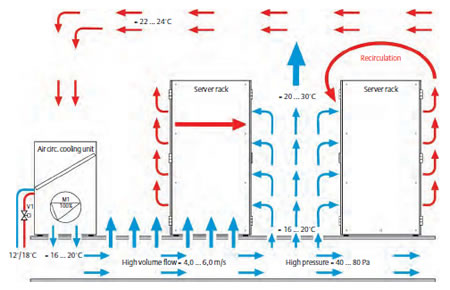 Conventional Data Center Example
Cold aisle containment produces a consistent temperature over the entire height of the cold aisle. This significantly reduces the air speed intake, and the air temperature intake can be increased (20 - 25°C). This, of course, has advantages for both the operator and the environment (lower energy costs for driving fans in the CRAC
equipment, suitable air temperature intake for servers, more pleasant working conditions).

The higher intake air temperature also allows the inflow water temperature to be increased, which results in further energy savings. Plus, higher inflow temperatures provide more time for cooling through free cooling.
The Liebert Cold Aisle Containment Package features various products and services:
Knürr CoolFlex
Products for sealing the raised floor and rack
On-site measurements
Solution planning
Design and construction planning
On-site installation
Thermal assessment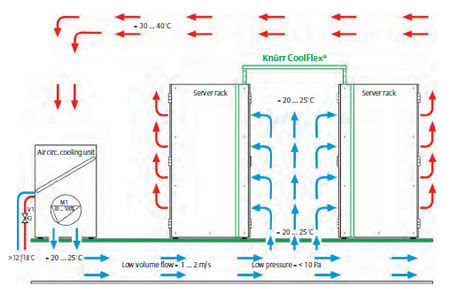 Data Center with Liebert Cold Aisle Containment Installed
Energy-saving
This Cold Aisle Containment saves "tons" of energy costs, and therefore makes a massive contribution to environmental protection. In conventional data centers, high volumes of cold air, which must be below 18°C in places, are blown from the raised floor into the cold aisle. The reason for this is that the cold and warm air in the data center frequently mix (especially when a data center reaches its full capacity). Many data canter operators therefore increase the volume flow and reduce the intake air temperature, until the desired temperature is achieved in the cold aisle. This consumes huge amounts of energy. The result: at the bottom of the cold aisle there is a temperature of 16 - 20°C; at the top there is a temperature of 22 - 30°C. At a data center's full capacity temperatures above 30°C can often be generated in the cold aisle with the recirculation of the warm is out of the warm aisle and into the cold aisle.


Is the Liebert Cold Aisle Containment the best solution for your containment needs?



Our engineers can help you select the best data center cooling solution for your cooling needs.
Click here or Call 1-800-638-2638 for a free data center cooling project evaluation.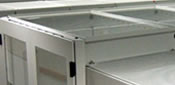 Liebert Cold Aisle Containment
The Liebert Cold Aisle Containment System offers many benefits:
Advantages:
Increased cooling capacity to maximize the use of existing data centers
Life extension of the conventional data center by several years
Cost-effective solution
Higher Delta T and therefore more cooling power with thermal management system airflow remaining constant
Predictable cooling capacity for each cold aisle; can be adjusted by modifying or replacing perforated floor plinths
Scalability with the aid of additional cooling (e.g. water cooling or cooling with cooling agent)
Double doors and sliding doors with automatic door closers
Service:
Solution consulting, calculation, simulation
Easily upgradeable (regardless of existing server cabinet run)
Integration into new building (especially with regard to the cooling requirements of very varied data centers
Temperature and volume flow measurement, and on-site measurements
Installation