The HP 10000 G2 Series Server Rack is an enterprise-class rack which combines next-generation structural integrity cooling and cable management, ease of use capabilities and choice of configuration options. The HP G2 Server Rack is designed as the HP universal rack for HP server and storage platforms including ProLiant, Integrity, Integrity NonStop, HP 9000 and Alpha servers, networking and StorageWorks products.
In addition to the universality of the HP 10000 G2 Server Racks, important enhancements have been made from the previous version of racks, including improved and updated front door design with bright-aluminum finish, improved front and rear door handles, and latches and easier to handle three-section side panels.
HP G2 Series Features and Benefits:

Single rack family for all HP server and storage platforms
Expanded Configure To Order (CTO) offerings to include depth expanded rack on a shock pallet
The strong 7 layer metal supports 3000 lbs of static load and 2000lbs of dynamic load
Complete line of rack, power, and KVM options to address all infrastructure requirements
Factory Express services available with the HP 10000 Series G2 rack, accessories, and all HP rackmount products
Complete line of rack models*, 14U, 22U, 36U, 42U, 47U, 42U 1200 mm deep, 47U 1200 mm deep, and 42Ux800W, making it the ideal rack for enterprise-class data centers, SMB companies, remote sites, and single rack deployments
Updated industrial design with top to bottom bright‑aluminum strip
Multi-angle door design, fully perforated front, and rear doors provide efficient, convection cooling, and improved ventilation. The doors have been tested to be 65 percent open for proper ventilation and cooling of servers
Patented 7x2 roll frame unique in the industry; the steel of the frame is folded seven times rather than just being cut thicker, enabling the rack to hold a net weight of 2,000 pounds of static and dynamic loading
Deeper 1 m form-factor enhances the use of space within your rack and easily accommodates the increasing depth of next-generation servers and storage products
Zero U space on the sides of the rack supporting the mounting of PDUs and switchboxes
Truly CTO capable with shock pallet and crating options with easy unload ramps
Tool-less three piece side panels for easier handling
Clear U markings on all four mounting rails
Split rear doors to facilitate easy servicing of servers and minimizing rear aisle space interference
Lock and key for front doors, rear doors and side panels provide a high level of security
Heavy duty casters designed to withstand 2,000 pounds of dynamic capacity while maintaining a low center of gravity

* HP 10000 Series G2 racks include the 10642 and the 10636 rack, all other models are currently HP 10000 G1 series.
Is the HP G2 Server Racks the best server cabinet for your data center needs?



Our engineers can help you select the best Server Rack for your data center needs.
Click here or Call 1-800-638-2638 for a free data center project evaluation.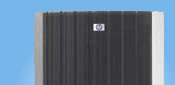 HP 10000 G2 Series
Server Rack Enclosures
HP's G2 Series Server Racks offer many benefits:
New Features over HP 10000 Series:
Front door with updated design
Front and rear door handles and lock bars for improved security
Side panels come in 3 parts for easier manageability and mounting
Cable management accessories
Improved CTO pallet with offload metal ramp included
Improved mounting of stabilization feet with expanded offering to include regular and heavy-duty stabilization feet in 24 in. (600 mm.) and a new regular 31 in. (800 mm.) wide stabilizer
Expanded offering of rack configurations including:

36U and 42U Rack with rear extension kit included, mounted on a shock pallet for CTO
New rack tie-down kit and new grounding kit
Cable Management:
One meter deep rack expandable by 6 in. (155 mm.) with optional extension kit providing additional space in the rear of the rack for optimal cable management
Addresses the cable management problems of high‑density environments with features such as the large cable egresses in the rack top, the removable access panel on the rear door, and cable management straps
Route cables through the rack top cable egress, use the cable tray options to route cable through the full row of racks and use the transfer bridge to rack top cable management trays
Cable management options such as cable D rings, cable management hook and loop strips, and Fiber Channel routing kits